Super handsome gelding that is just starting his US show career in the Hunters. He has a Huge stride, lofty trot and a lovely jump! Ready to make into a Child/Adult Hunter and a Derby Horse!
Santana Von Hary Z  – Sale or Lease
Child/Adult Hunter Champion! Short Stirrup through Children's Hunters. Judges, riders, trainers, and parents adore him. Consistent rhythm, patient style, and eager to please attitude!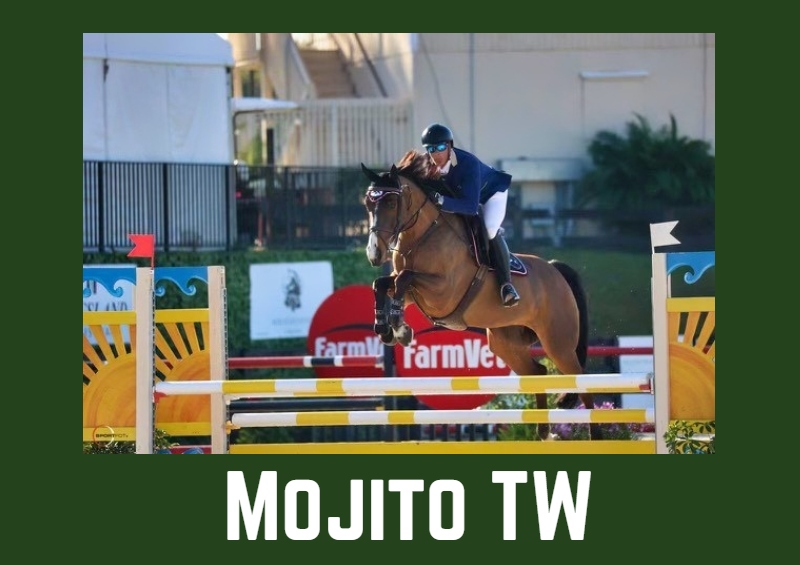 Mojito TW  – Sale or Lease
The perfect Jumper to take a rider up the ranks while giving loads of confidence and guidance while winning! Mojito has a winning European Record in the 1.35-1.40 and solid winning rounds in the Modified Adults during WEF 2023 and ribbons in the High Adult Classics during WEF 2023!
This horse is UNSTOPPABLE! THE SKY IS THE LIMIT! She's the real deal!
Six year old Moriaan "Annie" – Cartello VDL x Chin Chin. Imported last fall, has won/placed at all the top venues, in everything she has been entered in through the six year-old classes!
Scope for days- Incredibly well bred mare,  ready to step up the ranks for her next rider!  Super brave, unique in her style, and loves to win!!!
Super Brave, Scopey, Unstoppable and made for the rider wanting to win! Ranking 1.45 winner with loads of potential to do U25!
 Sky High's Riviere – Sale or Lease
Super kind and builds confidence. Highly competitive from the 2'3″ – 3'3″ and under arenas!
Boca's Better Late Than Never – Sale 
Qualified for 2023 USEF Pony Finals,  Medium Pony Hunter! Competitive Division pony who would be suitable for a junior looking to win tons of podium ribbons!
A Horse For Every Rider; A Rider For Every Horse!